At the end of June, PERA released its annual CAFR report, which reviews PERA's investment performance for the previous year and funded status of the plan. PERA reported their second highest return in the past 20 years! In 2019, their investments grew by 20.3%, far exceeding the assumed 7.25% annual return.
This is good news as it means that at the end of 2019, the plan's unfunded liability was reduced and the number of years that it would take to get to "full funding" improved. SB18-200 set the goal of full funding within 30 years. The chart below, from PERA's 2019 CAFR report, tracks the changes from 2018 valuation results to 2019 results, including the state budget impacts.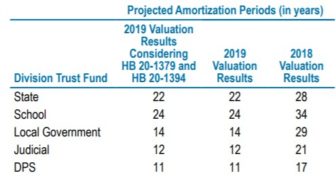 However, PERA also warned that the quick downturn of the markets this year due the impact of the pandemic, which caused an 11% drop in investments so far, plus the actions by the state legislature to balance the state budget will hurt that unfunded liability. Further, depending on the how the markets play out over the rest of the year will determine if there will be more adjustments needed to keep the plan on track. Fortunately, the investment returns from 2019 provide a strong starting point.